Best URL shortener Sites 2016 to Earn Money
Earn Money By shortening Your Links
The secrets of how to earn money online easily by shortening a long website address (URL) to a short link and sharing it and you get paid When someone click on your Short URL. This is also known as URL shortener.
URL shortener is one of the best and simplest ways to get online cash. No technical or marketing skills are required to start making money from short URL.
A URL shortener is a simple service which allows you to shrink long URLs. After shortening a long website address (URL) you get a short link, which is also referred to as "short URL" or "URL alias".
So how this generates money?
The principle is simple: the shortened URL is not immediately linked to the actual target, but firstly shows any kind of advertising. The advertising forms differ from provider to provider. Most common forms are interstitials ( web pages displayed before the expected content page) and framed-banner ( banner ads in an extra frame).
URL shortener are suitable for webmasters who use many (external) links on their webseite or blog. But even people without a website can earn money with shortened URLs for example social media platforms like Facebook, Google+, Twitter or posts in forums or guestbooks.
In addition to earning money from URL shortener, you can also earn from their referral programes, like whenever a person join through your referral link, the company will give you upto 20% Commission.
So what are you waiting for! Start shortening your URL Links, and your files by regestring to one or all the best URL shortener We have listed for you to earn money with.

Tips:


You can also double your earning by uploading your files first to a file storage websites, that way you will earn money from the uploded file and from the click leaded to it!
check our previouse article for a list of the best file storage websites.
--------------------------------------
Binbox
Binbox.io
is a publisher network where you can earn real money by sharing links online, You can share your link in blogs, websites and of course social media like Facebook, Twitter and etc. The first service offered by
Binbox.io
was like with Pastebin.com but with unique features because you can encrypt your pastes in Binbox. You can share your pastes with password or decrypt key. Decrypt key is the unique characters and numbers that need to be enter before someone can view your paste.
Binbox
Earnings from Binbox depends on where your visitors came from. The most highly paid country is US, GB, CA, AU and NZ you can have more money if you have viewers from those countries.
Rates (per thousand unique visitors)
United Kingdom (GB)

$2.75
Binbox.io offers referrals the most interesting with their referral is it is lifetime . Once someone signup under your referral you get 20% bonus earnings from every referral's earnings every month. If someone you refer earned $10 you will receive $2 as bonus earnings. Binbox.io also provide beautiful referral banner for you.
--------------------------------------

AdFocus
is a free short URL redirection service with a twist. Get paid for links you share on the Internet. You can place links on your website, forums, and more!
Earn up to $6.70 per 1000 visits to your short URLs. Generate stats on-the-fly and break-down by countries, referrers, and specific dates. We payout users every month for earnings above $10.00.
Referral Program: Earn 20% of revenue generated by your referrals.. for life!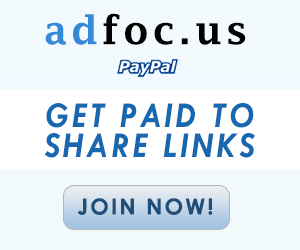 AdFocus Payout Rates and How much can you earn from it: AdFocus

determines payout rates based on the rates advertisers are willing to pay for the interstitial advertisements displayed when visitors click on your shortened URLs.

Current Payout Rates by Country:

CountryUser Rate


United States

$6.70 CPM

New Zealand

$5.60 CPM

Netherlands

$5.10 CPM

Australia

$4.90 CPM Denmark

$4.90 CP M Ireland

$4.40 CP M Norway

$4.00 CP M Sweden

$3.90 CPM Canada $3.90 CP M




--------------------------------------

Website Link :

https://shorte.st/
Shorte.st
is a link shortening website based in Europe by young internet enthusiasts which pays you money every time your shortened link is clicked. This site is nothing different from conventional link shortening sites. Shorte.st says 'Easy internet earning, Earn even without a webpage'. You can earn an additional income using
Shorte.st
easily.
Shorte.st
Payout Rates and How much can you earn from it:
--------------------------------------
Website Link :
https://adf.ly/
Adf.ly
is an advertising network based on URL shortening, It was established in 2009 and among on TOP 100 website in the world.
Adf.ly
is the easiest way to make money online by PTP ( Paid to Promote ). You can share your shortening URL on anywhere on the internet; When people click your link and skip ads after 5 seconds you will be credited.
Share your link on Social Network
There are more than 1000 Social Network you can post your
Adf.ly
link, but we suggest just using Youtube and Pinterest at the beginning :
– Uploading some trending videos on Youtube and put your link in the description, the more traffic, the more profit you gain.
– Sharing some interesting images on Pinterest or any Image Upload websites.
Note : It is not permissible to share on Facebook and Twitter because they have banned all links coming from
Adf.ly
.
Get direct referrals You can refer unlimited referrals to earn 20% of the commission. We often purchase some banner advertisement in some PTC/Make money sites to promote
Adf.ly
.
Adf.ly

Payout Rates and How much can you earn from it:
--------------------------------------
LinkBucks
allows you to make cash from the links your users post, from the links you place on your website, or from the posts you make in a forum. It is simple and easy to get started making money Today!
All you have to do is join
LinkBucks site
(it's free) and start creating your links. For each page you add, you'll get a
Linkbucks
link that you can start promoting to your friends. Your new paying links will still point to the same page, but will have an ad type of your choosing that will earn you money. Each time one of your links is clicked -- you earn money. Payments are sent out twice per month like clockwork.
Linkbucks

Payout Rates and How much can you earn from it:
High rates, paid once you reach $10.00
--------------------------------------

Shrink and Share. Signup for an account in just 2 minutes. Once you've completed your registration just start creating short URLs and sharing the links with your family and friends.
You'll be paid for any views outside of your account.
Ouo.io is a URL shortening service where you can shorten your links to make money from it.
Ouo.io pays for each legitimate visitor that you bring to your shorten URL's. The payout rates offered by Ouo.io are decent and varies for countries that you can check on their Payout rates page.
Ouo.io
Payout Rates and How much can you earn from it: